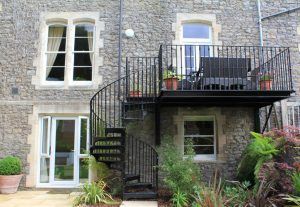 Your Dependable Wooden Fence Installation Expert
Wrought iron railings have a unique look about them due to the heat in which the iron is formed. This is how you get the stunning black look as well as the twists and turns that can add character to a railing. We can also paint the product in a variety of other finishes. can provide you with these railings for your patio, your deck, your staircase, and much more.
As a customer you have a lot of input into how we fabricate your wrought iron railings. A product that has the durability and strength combined with pure style.
Whether you are looking for a custom wrought iron railing solution indoors or outdoors, we have worked with wrought iron for over three decades and have been able to deliver impressive designs of all sizes time and time again. Character is what you need inside and outside of your home and we can show you how to get it easily by working with us. There are a variety of styles and designs that can compliment the homes' existing style and decor. Whether your looking for a Baroque style, Contemporary, Classic, or even Modern – we can be there for you to create the perfect combination to your home.
We are constantly testing new designs and ideas for picket combinations and custom elements combined with a variety of finishes to stay ahead of the design curve. A lot of our railing design inspirations come from past projects we have done that may not directly affect but do add some element of design we had not considered previously. Over the years our designs have changed substantially and we strive for a lot of contemporary railing looks but also understand that there are customers that have a different taste and our job is to ensure you love the final product – no matter what it is!
Regardless of what you are looking for, we can provide a wrought iron solution in your area. We can also fabricate designs and ship them to anywhere in the country, ensuring that you are never limited by geography. Whether your in LA or NY we can simply utilize freight shipping to send any custom wrought iron railing design to you.
Learn more about some of our services by contacting us today. Feel free to look over some of the custom wrought iron railing designs available here. Just because you don't see it on here – does not mean we don't make it. We can fabricate most styles of wrought iron railings simply give us some inspiration or style you prefer. Don't forget to check out our wrought iron handrails and wrought iron staircases sections. A lot of our wrought iron railings have a variety of applications such as deck railing, balcony railing, stair railing – and much more! Give us a call today! We are your leading custom Chicago railing fabricators!
Custom pieces are one of the best ways to put personal flair on your establishment or home. At Americana Fence we specialize in personalizing one of the biggest factors at play in the first impression, your fences and gates. Crafting a custom iron works requires skill, experience, and a great value of detail. Our team is built with over 30 years of experience and creativity. From gates to balusters, Americana Fence is here to give your home the aesthetic is deserves, with all the personality you have.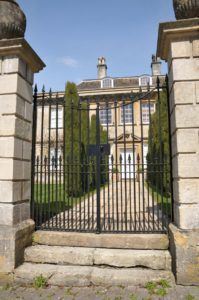 Gates
The gate to your residence is one of the first things identified by visitors or passer-by's. Whether a walkway or driveway gate, creating a style that you will enjoy is key. We understand that these designs are built to last, so we want to ensure you will enjoy them for the years they endure. Additionally, these gates can provide security to your home, providing an added sense of personal assurance that your gate can bring flair and functionality.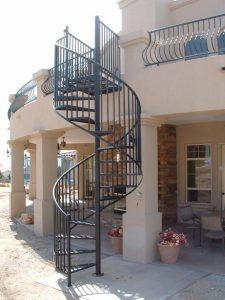 Staircases
One of the biggest pieces that can set the interior of a home apart is the staircase. Often times, they are also a good way to measure when the house itself was built. Older homes often have drywall on one or both sides, set lower with a handle either bolted to the side, or a wooden panel on top. When you choose Americana Fence to design a staircase for your home, you are choosing to give your space a timeless design, with a priceless appearance. A perfect option, often forgotten or overlooked, is the spiral staircase. Not only does this style give a beautiful ambiance to your space, it also provides functionality through the extra space it provides. Americana Fence is here to create and install your custom staircase, and make your house a home.
Canopy
Canopy's give an effortless elegance to all they cover. Whether a bed or an outdoor covering, an iron canopy offers a unique design while still providing effective covering. Whether you're looking for a contemporary theme, or an ornate design, factoring in a personal piece, such as a canopy, can establish a room or an outdoor patio with little effort. Our team is ready to help make your area an inviting one.
Americana Fence is your best choice for all personal touch pieces in, and around your home. As a company focused around great customer service, we make sure our prices are cost effective and bring only the highest level of satisfaction. For all your custom iron fences, balcony's. staircases, canopy's, gates and more, call Americana Fences! Your satisfaction is our priority. Contact us today.