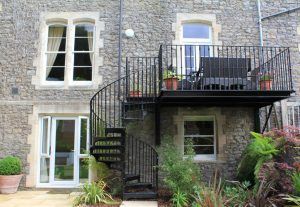 Balcony Railings
With over thirty years in the industry, we are the leading balcony railing experts in the Chicagoland area. We can create anything you need, anywhere you need it- apartments, homes, hotels- we offer commercial and residential solutions. We craft these railings to your specifications out of stainless steel or wrought iron! These railings are fully customizable so that we can achieve the look and feel that you are going for. Traditional? Romantic? Modern? We have it covered! We want to make sure we find the best solution and application for your budget and general design taste. From the smallest job to the largest, we get the job done efficiently and with excellence!
We have in house designers that create or modify any design to fit specifications. Our custom balconies have 2-3 coats of powder coating or are galvanized depending on the style/what is requested. Bolts are either welded or provided to the installer in the case of a stainless steel railing. All custom balconies undergo a thorough examination to make sure they exceed the standards put in place by city codes. All custom balcony railings we produce are all examined one by one to ensure that they exceed all expectations and city codes. In line with our extensive quality control we offer warranties on all our products!
We love staying ahead of the design curve by working on projects that others might think are out of the box. We live for those projects! Nothing is too big or too crazy. We will put our heads together and come up with an excellent solution for your vision.
We fabricate and install these railings anywhere in Chicago or the outlying suburbs! Give us a call today!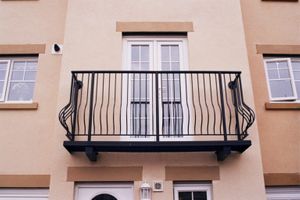 Balcony railings provide an element of safety and unmatched aesthetic appeal to any home. Though they are typically the last thought of an addition to your home, they can add an elegance to the design, or a modern statement. Americana Fence is here to be your custom balcony railing specialists. Providing over 30 years of experience, we have set the bar for quality, durability and affordability. Our team has designed wrought iron balcony railings in a variety of styles, each one depicting a unique representation of the establishment. We are a company on your side, determined to build your trust as well as the personal touches on a home or business.
Regardless of size or design, Americana Fence can work with any layout. Each completed project is built to comply with all city code requirements and boasts a timeless statement you're sure to love. Using wrought iron, we can create a romantic balcony railing with effortless bends and curves, or fashion a traditional taste that embodies a professional style. As a Top Rated Local® company, you can trust that you're in good hands. We proudly serve both residential and commercial properties, creating unique benefits for both.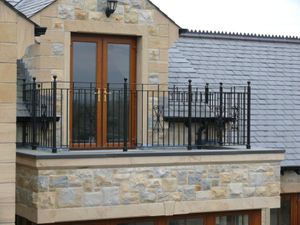 Residential Balcony Railing Benefits
Choosing a balcony for your home, whether for one or multiple areas, can add some unique benefits. Some of the best benefits that balcony railings provide for a home include:
Unobstructed View
Installing a balcony railing with wrought iron allows for the best view out of your window. Through the iron bars you are able to view any scenery beyond it, creating an open atmosphere. As a result, you can have the feeling of privacy, without the enclosing, sealed aspect.
Maintenance
Because we use wrought iron for our custom and fabricated railing designs, it's incredibly easy to maintain them. Known to be one of the toughest materials on the market, wrought iron is designed to last as long as the building itself. It can withstand harsh and repetitive weather conditions without resulting in any detrimental damage. Choosing this style of balcony ensures a durable and sturdy home accessory for years to come.
Commercial Balcony Railing Benefits
Looking at installing balcony railings for your business? Americana Fence can help! We highly recommend looking into the benefits that balconies can provide; they are highly desirable and can help you achieve the style you're focusing on. Here are a few more reasons we recommend these wrought iron balconies.
Durability
Because wrought iron is designed to be one of the strongest materials, when you install them you can trust they will not rot, bend easily, or cause any long term maintenance issues. Other than the occasional polish, wrought iron is extremely resilient, making it an ideal option for a busy business.
Maintenance
There is a beautiful appeal to our wrought iron when finished. When you install your balconies you never have to worry about fixing or repainting the exterior of it. Your business is built to last, and so is your balcony.
Don't wait any longer, contact Americana Fence today for all your fabricated or custom balcony railing designs!