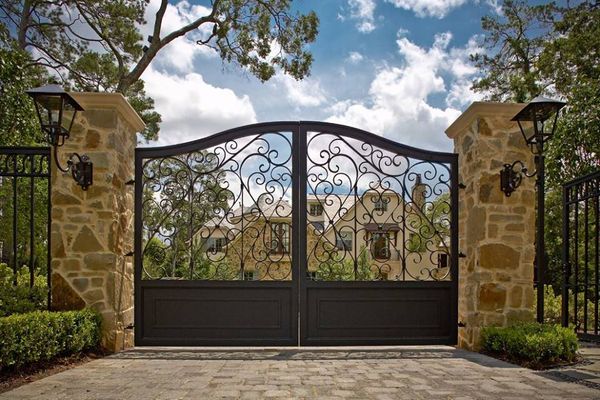 Balcony Railings
The gate to your residence is one of the first things identified by visitors or passer-by's. Whether a walkway or driveway gate, creating a style that you will enjoy is key. We understand that these designs are built to last, so we want to ensure you will enjoy them for the years they endure.
A driveway or entrance gate can also be one of the most intriguing and personal pieces of a property. At Americana Fence, we specialize in custom iron work gates for any establishment. Our team has over 30 years of experience in custom work and can bring your imagination to life. These gates are built using wrought iron, intended for immense strength and durability that will last you years to come. Designed with longevity and a timeless appeal in mind, our gates are crafted with detail and purpose, making your gate a unique and personal expression. With a variety of options in size and design, the only limits are your own. Our team has crafted a wide variety of timeless pieces to make a statement, make an impression, and make it last. Our goal is to create a piece that can outlast you, without losing the personal and dependable elements we work hard to put into it. We take careful consideration in each part of the process, whether design or installation.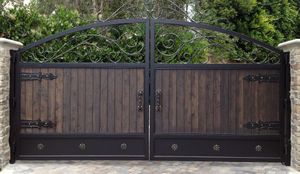 Security
Additionally, by bordering property with a gate, you are providing dependable security from passerby's and potential trespassers. Our sturdy wrought iron material is proven to be more difficult to tamper with or get past than nearly all of the other options available on the market today. By adding a gate from Americana Fence you adding an effective element of safety, while enhancing the value of the property. Though general appeal is desirable, it's imperative that your property and the people within it are safe. Don't leave it to chance, choose an option that you can trust with your safety.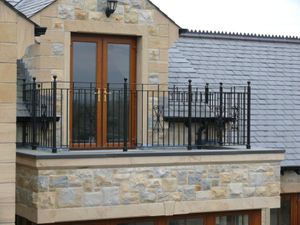 Residential Balcony Railing Benefits
Choosing a balcony for your home, whether for one or multiple areas, can add some unique benefits. Some of the best benefits that balcony railings provide for a home include:
Unobstructed View
Installing a balcony railing with wrought iron allows for the best view out of your window. Through the iron bars you are able to view any scenery beyond it, creating an open atmosphere. As a result, you can have the feeling of privacy, without the enclosing, sealed aspect.
Maintenance
Because we use wrought iron for our custom and fabricated railing designs, it's incredibly easy to maintain them. Known to be one of the toughest materials on the market, wrought iron is designed to last as long as the building itself. It can withstand harsh and repetitive weather conditions without resulting in any detrimental damage. Choosing this style of balcony ensures a durable and sturdy home accessory for years to come.
Automatic
One of the best features of our design and installation of gates, is the automatic feature we offer. For large establishments, you can create a prominent statement with a facet of security and ease. We cater to all sizes and shapes of design and can help install an automatic gate feature in nearly any situation. With the ability to withstand harsh weather conditions and endure years of wear and tear, our wrought iron gates can hold their own in appeal and strength while maintaining the ease of automatic responses.
Americana Fence is here to supply all of your driveway, entry, or property gate needs. Due to the nature of the iron we use, we can create a stunning black look with all the beautiful, soft twists and curls through a heat process. Not sure what you're looking for? We have an array of prior pieces we have helped design and create, and years of experience to help answer any questions or concerns you may have. Click or call today to learn more about our options and designs.